Data Engineer
Do you feel intrigued by the opportunity to work in a team where data is core and re-inventing fintech, in the forefront of AI? Welcome to join Alektum Group headquarters as our next Data Engineer!
Alektum Group is a family-owned, value-driven company operating in an international and expansive environment. We are passionate about our work, proud of our history, and excited about the future. We believe our employees are our greatest assets. Our company culture is progressive, caring, and characterized by great team spirit, innovation, and drive. We strive to create long-term value for our customers by helping them predict their cash flow so that they can be sustainable and thrive. We focus on removing complexity and finding flexible solutions. And – we work together to make things better and we have fun along the way.
Technology & Development at Alektum Group consists of 40+ highly qualified people and is one of the key reasons for our success and growth as a company. We are now further increasing our capacity in preparation for several new data initiatives. We welcome you to join the team that integrates the rapidly expanding landscape of data sources with in-house solutions for the next generation FinTech solutions!
Key Responsibilities  
The main purpose of the role as data engineer is to build the data highways connecting our various data sources, both internal, external, in cloud and on premise, enabling our data scientist to correlate, aggregate and use this data in AI models and automation for Alektum services. Data as a service is becoming further important as it acts as a key differentiator in Alektums value proposition towards our most strategic accounts. Also, internal processes are becoming increasingly reliant on data driven decisions, requiring vast and complex data sources to be connected. Key responsibilities of the role include:
Improved data quality: To ensure by automation that the data stored in the system is accurate, consistent, and up to date.
Efficient data processing: To optimize the data processing pipelines and ETL processes to make them faster, more efficient, and more reliable.
Scalability: To design the infrastructure to handle large volumes of data and traffic, making the software scalable and able to handle growth.
Security: To ensure that the data is stored securely and that appropriate measures are taken to protect it from unauthorized access or breaches
The team  
The Data & AI team currently consists of three data scientists that also share the data engineer tasks between them with help from contractors. We now plan to strengthen the team with two data engineers. The team collaborates with the other development and AWS infrastructure teams in the Technology and Development department. We work agile with joint responsibility not only for new development, but also for maintenance and 3rd line expert support. We adhere to DevOps principles. As individuals we are all quite different of course, but are all very engaged in how to drive value with software in our highly competitive FinTech business. We like and take time to explore modern technologies and we also understand the importance of camaraderie and sound work-life balance.
Your Background 
We expect you to have a minimum of 3+ years of qualified experience after graduation working with ETL and data pipeline tools in a role as data engineer, devops automation or similar role from a company developing business-critical applications. We believe you have a master's degree in software engineering. No one ticks all boxes, but here are some key skills that you will probably bring with you and will further develop once you join:
Proficient in designing and implementing database schemas, understanding relational and non-relational data models, and optimizing database performance.
Strong programming skills in languages such as Python, Java, Scala, and SQL.
Experience with cloud infrastructure and platforms such as Amazon Web Services (AWS), Microsoft Azure, or Google Cloud Platform (GCP).
Microservices and event-based architecture using Kafka, RabbitMQ or similar.
Familiar with data warehousing concepts and technologies such as Snowflake, Redshift, BigQuery and ETL tools such as Apache Airflow, Talend, or Informatica.
Excellent communication and collaboration skills, and the ability to work in a team and adapt to changing requirements.
Interested?
Does this sound like your next challenge? Selection and interviews take place continuously and we would like to see the position filled as soon as possible, so please send us your application without delay.
The position is full-time and starts according to the agreement. The position is located at Alektum Group's head office in central Gothenburg. 
Do you want to know more about the position?
You are welcome to contact Hans Djurfeldt, Team Manager IT, regarding the role at hans.djurfeldt@alektumgroup.com.
If you want to know more about the recruitment process, please contact Safiyah Ali, recruiter at safiyah.ali@alektumgroup.com.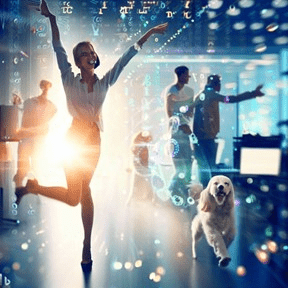 "A very happy data engineer in a modern brightly lit office landscape, co-workers in background, dancing with dogs, all celebrating a new release of fantastic AI software, digital art". 
Picture created from keywords in this ad using DALL-E OpenAI models.

Arbetsplats och kultur
Vi är ett familjeägt och värdestyrt bolag med en hög tillväxtambition.
Som medarbetare hos oss blir du en del av en progressiv företagskultur som kännetecknas av gemenskap, innovation och driv, men framför allt glädje och viljan att tillsammans påverka samhället till det bättre.
Om Alektum Group | Sweden
Alektum Group är ett familjeägt inkassobolag som grundades 1992. Vi tror på långsiktiga partnerskap genom nära samarbeten och skräddarsydda lösningar och arbetar aktivt med våra kunder för att minska risken för överskuldsättning. Genom våra medarbetares kunskap och engagemang, samt bolagets djupt rotade värderingar, vill vi bidra till ett mer hållbart samhälle. Ett samhälle där alla har möjlighet att upprätthålla en balanserad privatekonomi och företag kan lita på att få betalt.
Vi stöttar våra kunder med lokal kunskap och branschkännedom på alla våra marknader. Att samarbeta med oss ska alltid vara enkelt och effektivt – rätt lösningar vid rätt tidpunkt för rätt resultat.
Koncernsiffror
Data Engineer
Do you feel intrigued by the opportunity to work in a team where data is core and re-inventing fintech, in the forefront of AI? Welcome to join Alektum Group headquarters as our next Data Engineer!
Läser in ansökningsformuläret
Jobbar du redan på Alektum Group | Sweden?
Hjälp till i rekryteringen och hitta din framtida kollega.